Ulleri Foundation wants to build a health Clinic in remote mountain villages to provide them with basic medical supplies. Whenever someone gets sick in many of these villages, the person will have to be carried up or down the hills for hours. Many of them never make it down to the hospital. Even if they did, many of their families were unable to pay the hospital fees and they are left at their own mercy. Because of it, young village girls unable to give birth to their first child lose their lives. Therefore, we have decided to step up and provide them with basic health care to give them hope for their futures.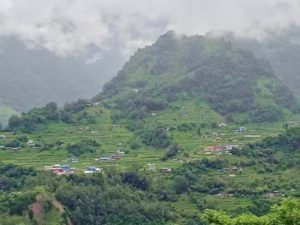 This is Swata village where we will be building our first clinic in Nepal.
Our first project goal is to build a clinic in Swata, a small village that rests at 6,200 feet elevation hidden on a far back hillside of mountain land with a population of about 400 people. This particular village is located in one of the Annapurna sanctuary range areas in the Myagdi District, west of Nepal. Our founder visiting this village has acknowledged the hardship of these villagers. By establishing a clinic at this particular location, 475 more people from four other neighboring villages that rest on those nearby hillsides; Kindu 150, Jharbang 100, Dhashkay Khoray 150, and Sovitta 75, will also have access to the clinic. Today, in order for them to get any medicine they have to walk two hours in the jungle. We need a total of $20,000 to complete this project. The land to build a three-roomed health clinic, a medicine room, a patient care room and an office room for a nurse has already been provided by the village community. The budget will include labor costs and year-round medicine supplies, including one year salary for the local qualified village nurse. In order to build the clinic, we will use eco-friendly wood and materials suitable for the environment. We need your help to accomplish our dream. With your kind donation, not we as a foundation but everyone in these villages will be grateful forever!
A fundraising campaign has begun.
| | | |
| --- | --- | --- |
| Name | Country | Amount ($) |
| Tara Buddha Magar | Texas, USA | 105 |
| Jerry Wilson | Canada | 50 |
| Sam Nisson | Watsonville, USA | 150 |
| Doot Buduja Pun | New York, USA | 110 |
| Binod Pun | Texas, USA | 150 |
| Shyam Budha | Alaska, USA | 100 |
| Ritesh Gurung | New York, USA | 101 |
| Anup Gurung | San Francisco, USA | 50 |
Kamal Gurung New York, USA 150